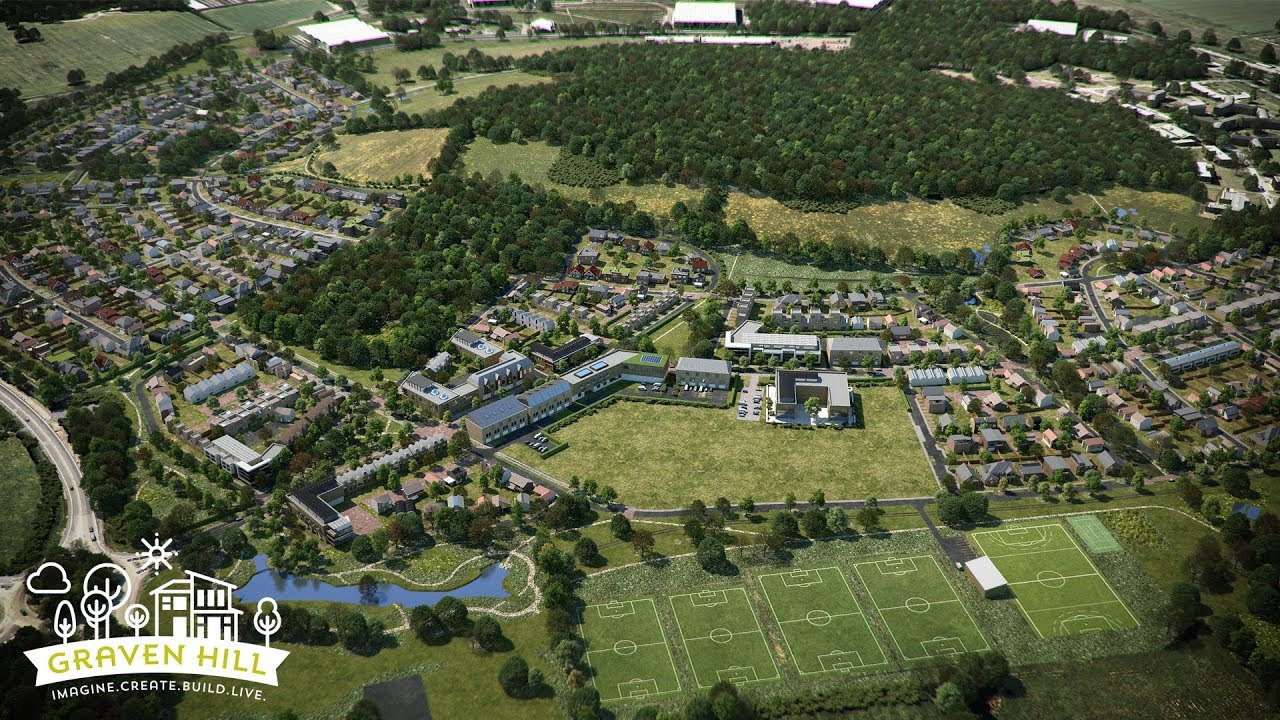 About
About This Site
Graven Hill offers a great space for living, along with the chance to design and build a house just for you. A variety of plots are available aimed at various budgets, they come with pre-approved outline planning and utility services in place, ready for you to start your build.
With good access direct to the bypass that surrounds Bicester and just 3 miles from junction 9 of the M40, Graven Hill can provide the perfect location.
Enquire now
Concept House Designs
The options are endless in regard to house types and you don't need to adhere to a certain uniform design for your new home.

Self build houses must meet the individual plot passport requirements and the Graven Hill design code, with planning permission ensuring all houses are constructed in an efficient manner.
Graven Hill Website
If you want to build a Potton home, then the Graven Hill site could be a great opportunity for you. It has a number of plots available with planning permission granted, accompanied by a primary school, offices, shops and a local pub.

Build your Potton home at Graven Hill and benefit from:
A fast-track solution to your self build project without the plot search
Plots for sale with pre-approved outline planning permission and utility services in place
Our architectural design service, tailoring your home to suit your lifestyle
Flexible building approach. Do as much or as little as you want with our various options to build
Plot 555
Land price: £225,000
Building Type: Detached
Bedrooms: 4
Plot Area: 326 m2
Gross Internal Area: 150 m2
Max Build Height: 8.1 m
Foundation Type: Piled
Enquire now
Plot 556
Land price: £226,000
Building Type: Detached
Bedrooms: 4
Plot Area: 328 m2
Gross Internal Area: 150 m2
Max Build Height: 8.1 m
Foundation Type: Piled
Enquire now
Plot 568
Land price: £245,000
Building Type: Detached
Bedrooms: 5
Plot Area: 334 m2
Gross Internal Area: 180 m2
Max Build Height: 8.1 m
Foundation Type: Piled
Enquire now
Plot 590
Land price: £245,000
Building Type: Detached
Bedrooms: 5
Plot Area: 373 m2
Gross Internal Area: 180 m2
Max Build Height: 8.1 m
Foundation Type: Piled
Enquire now
Plot 607
Land price: £235,000
Building Type: Detached
Bedrooms: 5
Plot Area: 332 m2
Gross Internal Area: 160 m2
Max Build Height: 8.5 m
Foundation Type: Piled
Enquire now
Plot 608
Land price: £240,000
Building Type: Detached
Bedrooms: 5
Plot Area: 350 m2
Gross Internal Area: 160 m2
Max Build Height: 8.5 m
Foundation Type: Piled
Enquire now
Plot 609
Land price: £240,000
Building Type: Detached
Bedrooms: 5
Plot Area: 352.8 m2
Gross Internal Area: 180 m2
Max Build Height: 8.5 m
Foundation Type: Piled
Enquire now
Plot 610
Land price: £245,000
Building Type: Detached
Bedrooms: 5
Plot Area: 370.5 m2
Gross Internal Area: 160 m2
Max Build Height: 8.5 m
Foundation Type: Piled
Enquire now
The Location
Graven Hill, OX26
600 hectare site, large enough to accommodate up to 1,900 custom build and self build homes
Largest self build site, surrounded by open green spaces including woodlands, allotments and a network of cycle and footpaths
10 minute walk from Bicester train station, with access to Oxford and London
3 miles from junction 9 of the M40
Register Your Interest in the Graven Hill Site